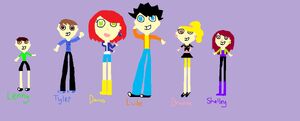 Dana's Life
Dana's Life is a JuneNetwork Original television series that premiered on May 6, 2005. It won "Favorite Tv Show" at the very first JuneNetwork awards. A film adaptation of the series, Dana's Life: The Movie, premiered as a JuneNetwork Original Movie on April 2010. The fifth season of Dana's Life was promoted as Dana's Life Rocks. The one hour series finale aired on August 15, 2010.
Production
Edit
The original working title for the series was The World Of Millie, and the original name for the main character was Millie Herrington. The show's title was later changed to Welcome to Millie's World, and then an article in Tiger Beat stated Tapeman would be starring in "Millie's World". The lead character's name was then changed to Courtney and the title changed once again to Courtney's World. The main character's name was later changed to Dana Herrington, and the show's title was changed a final time to Dana's Life.
De'Shaun Greene, president of entertainment, JuneNetwork Worldwide, stated "This show will give kids with a big family hope that they will make it through." The show began production on October 21, 2004 and the was taped at Stage 11 at NBC Studios in Burbank, California.
Theme song and opening sequence
Edit
The show's theme song "All In Together", was written by Jeanne Lurie, Chen Neeman and Aristedis "Aris" Archontis, who have each written songs for several artists on Disney-owned Hollywood Records. It is performed by series actress Stacy Tapeman. The theme is of pop-rock style (the music cues composed by Scott Clausen and Christopher Lee, signaling scene changes and commercial breaks are styled similarly).

Awards and nominations
2009 JuneNetwork Awards Winner: "Best Tv Show"
2009 JuneNetwork Awards Winner: Ariana for "Best TV Actress"
2010 JuneNetwork Awards Winner "Best Tv Show"
2010 JuneNetwork Awards Winner Bradley Steven Perry for "Best Young Person 10- 15"
2010 JuneNetwork Awards nominee: Ariana Grande for "Best TV Actress"
Characters
Edit
Main characters
Edit
Dana Herrington/ Maria Rox (Stacy Tapemen) Is a nice, creative, sometimes bossy girl that is into music. Age: 12 - 18
Luke Herrington (Daniel Booko ) Is a very gross, lazy boy that picks on his siblings. Age 13- 19
Brittany White/ Lashawnda Wright (Keke Palmer ) Is a smart, athletic girl that is their for her friends. Age 12- 18
Allison" Alice" Herrington/ Lilly Harper (Emily Osment ) Is a ditzy, clumsy girl that is really boy crazy. Age 12 - 18 (seasons 1-5, main; season 5, guest star)
Tyler Herrington (Shane Harper ) Is a mischieous, silly boy that is a good dancer. Age 10 - 16
Brooke Herrington (Caroline Sunshine) Is a cheerful, sacarstic girl that is always with her friends. Age 9 - 15
Shelley Herrington (Bella Thorne) Is a helpful, kind girl that is one of the most popular in her class. Age 8 - 14
Lenny Herrington (Bradley Steven Perry ) Is a demanding, friendly boy that looks up to his older borther and sisters. Age 6 - 12
Chris Herrington (Billy Ray Cyrus ) Is a hill billy, funny, man that is the Herrington kids' father. Age: 39 - 46
Kelly Herrington (Lori Loughlin ) Is a talented, sweet, woman that is the herrington kids' mother. (Season 1-3, main; Season 3-5, recurring) Age: 36 - 43
Lola Gracia (Nicole Anderson ) Is a popular, selfish that is Dana's rival. (Season 1-2, recurring; Season 3-5, main) Age: 12 - 18
Allen Cage (Robbie Amell) Is a dumb, unlucky, boy that is fun to be around. (Season 2, recurring; Season 3-5, main) Age: 14 - 18
Sean Brady (Drew Roy ) Is a bad, charming boy that is Dana's ex-boyfriend. (Season 2, recurring; Season 3-4, main; Season 5, guest star) Age: 15 - 19
Anna Richardson (Juliette Goglia ) Is a rich, mean girl that is Luke's old boss and Brooke's best friend. (Season 4, recurring; Season 5 main) Age 13 - 15
Recurring Characters
Edit
Logan Gracia (Matt Angel ) Is caring, hot boy that is Dana's ex-boyfriend and Lola's cousin.
Kelsey BouleVardez (Carly Schroeder ) has the same personality as Lola and is her best friend
Brandon Kyles (Jansen Panettiere ) Is a sporty, energetic boy that is tyler's best friends and Brooke's boyfriend.
Title
Directed by
Written by
Release date
U.S. TV
Viewers (in millions)
"Maria Rox/ Stacy Tapeman: All In Together In Concert "
Bruce Hendricks
N/A
February 1, 2008 (cinemas)

July 26, 2008 (TV)

5.9
"Dana's Life: The Movie"
Peter Chelsom
Dan Berendsen
April 2010 (cinemas)

November 19, 2011 (TV)

4.6
International release
Edit
Country/Region
Network(s)
Series premiere
Series Title in Country

Turkey

Digiturk
TBA
Dana's Life
JuneNetwork Turkey
May 6, 2005
Dana's Life

United States

JuneNetwork

Pakistan

JuneNetwork

Australia

JuneNetwork
TBA
Seven Network
TBA

New Zealand

JuneNetwork New Zealand
TBA
TV3

United Kingdom

JuneNetwork UK
TBA

Ireland

JuneNetwork Ireland
TBA

Canada (English)

Family
TBA

India

JuneNetwork India
TBA

Sri Lanka

Bangladesh

Malaysia

JuneNetwork Malaysia
TBA

Arab World

JuneNetwork

(Airing with Arabic subtitles)

TBA

The Netherlands

JuneNetwork (Netherlands & Belguim)
TBA

Belgium

TBA

Hong Kong

JuneNetwork Asia

(Airing the show with Indonesian, Malay and Chinese Subtitles)(Dubbed in Hong Kong, Thailand, and South Korea, Vietnam)

TBA

Indonesia

Philippines

Singapore

Thailand

South Korea

데이 나의생활

Vietnam

Cuộc sốngcủaDana

South Africa

JuneNetwork South Africa (airs in English)

SABC 3

Canada (French)

VRAK.TV
TBA
Dana's Life

France

JuneNetwork France
TBA
NRJ12
TBA

Israel

JuneNetwork Israel
TBA
דנהשלהחיים

Bulgaria

BNT 1
TBA
Данае

живот

JuneNetwork Bulgria
TBA

Greece

JuneNetwork Greece
TBA
Η ζωήτηςDana
ERT
TBA

Italy

JuneNetwork Italy
TBA
La vita di Dana
Italia 1
TBA

Poland

JuneNetwork Poland
TBA
Dana's Life
TVP 1
TBA

Finland

JuneNetwork Scandinvia Nelonen
TBA
Danas Life

Denmark

Dana's Life

Sweden

Norway

Dana's Life

Germany

JuneNetwork Germany
TBA
Dana's Life
Super RTL
TBA

Switzerland

SF Zwei
TBA

Austria

ORF 1
TBA

Spain

JuneNetwork Spain
TBA
La vida de Dana
Antena 3

Portugal

JuneNetwork Portugal
A vida de Dana
SIC

Brazil

JuneNetwork Brazil
TBA (Advance)
TBA(Premiere)
JuneNetwork Latin America

Dominican Republic

TBA(Advance)
TBA
(Premiere)
Vida Dana

Argentina

Bolivia

Colombia

Ecuador

Haiti

Mexico

Panama

Peru

Paraguay

Uruguay

Venezuela

Taiwan

JuneNetwork Taiwan
TBA
TBA

Japan

JuneNetwork Japan
TBA
ダナさんの生活

Albania

Digitalb
TBA
Dana's Life

Chile

JuneNetwork Latin America
TBA(Advance)
TBA
(Premiere)
Vida Dana
Canal 13 (Chile)
TBA

Romania

JuneNetwork Romania
TBA
Dana's Life

Czech Republic

JuneNetwork (Central and Eastern Europe)
TBA
Dana život

Slovakia

Hungary

Dana's Life

Russia

СТС
November 2, 2009
ДаныЖизнь
JuneNetwork (Russia)
TBA

Serbia

Radio Television of Serbia
TBA
Данаживот
JuneNetwork Sebia

Slovenia

Kanal A
TBA
TBA
Ad blocker interference detected!
Wikia is a free-to-use site that makes money from advertising. We have a modified experience for viewers using ad blockers

Wikia is not accessible if you've made further modifications. Remove the custom ad blocker rule(s) and the page will load as expected.